Hacking the Marketing to Sales Handoff: How to Guarantee that Sales Takes Action on Your MQLs
Background:
Polyflow is a $28 million company based in Midland, TX that manufactures, sells, and installs composite pipe used by the energy industry to move hydrocarbons. They compete with other products that are similar but have minor technology differences. In some cases, their competitors simply win business because they use technology that is more commonly understood or has been seen before in the field by their customer's construction team or engineers. Polyflow's primary goal for inbound marketing was raising product awareness in order to get a larger share of the market, and to expand their customer base outside of their traditional upstream energy segment.
We began our initial research of the client's sales process and buyer personas in May 2017 and kicked off our content strategy in July 2017. The following examines the period of July 2017-July 2018.
Challenges:
Client needed a system for getting Sales to handle qualified leads effectively.

Client wanted to target Upstream in addition to Midstream oil and gas but needed help with introducing their technology to the market.

Client was getting priced out in certain markets, and wanted to introduce and sell a new price-competitive product line called Thermoflex ECO.

Client wanted to expand revenue base to new buyers outside of their existing current customer base and West Texas geography.
Solutions: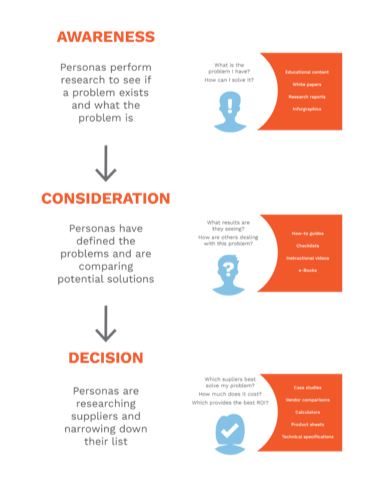 We developed buyer personas for the Midstream pipeline rehabilitation market, generated a wide variety of helpful, informative content for each stage of the buyer's journey, and promoted the content through various channels. We also equipped the sales team with this content for their own use.
Polyflow had traditionally targeted Upstream production engineers responsible for hydrocarbon production from a group of producing wells or fields. To successfully reach Midstream prospects that were looking to rehabilitate existing steel pipelines, we expanded the messaging strategy to include content aimed at:
construction managers

facilities engineers

operations managers

corrosion engineers 
We also created and promoted content around the cost advantages that their new product line, Thermoflex ECO, provided certain segments of their target audience.
Our tactics included:
Pillar content creation

Blogging

LinkedIn sponsored campaigns

Email marketing including newsletters and targeted campaigns

Trade show lead nurturing

Automated nurturing email sequences for content offer downloads

Case study production and promotion
While all of these tactics generated or nurtured the leads, the key to the entire process was developing the Inbound Sales Analyst role in order to provide a human touch to the lead scoring system we developed. This role focuses on analyzing incoming newly-generated leads as well as new activity from existing leads in order to hand off and qualify with buy in from the sales team. It's a key step in our process to ensure that MQLs become SQLs, and that the sales team knows what to do next.  
Our inbound sales analyst had a weekly call with the VP of Sales and Marketing in order to enforce the Service Level Agreement and ensure that no hot leads went un-addressed. The inbound sales analyst's discussions with the VP of Sales and Marketing continually fed back into the content strategy and also allowed for an agile account-based marketing strategy in which Sales would tell Marketing where they need the most help.
We also began working with the sales team to write case studies and build content directly from their experience in the field. This further strengthened our operational alignment and developed rapport with sales team members.  Each sales person provided unique and valuable input that allowed us to improve our strategic messaging in new pieces of content. 
Results:
Increased revenue from the Midstream segment to be 15-20% of 2018 YTD revenue. 

On pace to sell over $8MM this year in ECO, from zero in 2017

Helped secure new business with Sabine Oil, SM Energy, Marathon Oil, and others
According to Chris Reiter, VP of Sales and Marketing at Polyflow, the program with Bayard Bradford has generated fantastic results. "We've seen upwards of $6 million in revenue that has either originated from or been influenced by our inbound marketing efforts. The Inbound Sales Analyst role that Bayard Bradford plays in our relationship has been critical to this success. Through weekly calls and ongoing analysis we are able to use intelligent methods to sharpen our lead qualification process.  This means when we hand leads off to the sales team, they are better qualified and the sales team can have a more thoughtful and productive conversation with the lead."
Are you a mid-market B2B company that manufactures products or sells industrial services?

Are you looking to grow sales revenue, gain sales efficiency and get the most value from your marketing spend?

Are you interested in one of our BI connectors?